Ok, time to take the plunge and write my first  post… it's actually more difficult than it looks! This used to be a website for my DJ and music production work, but I've recently turned it into something a bit more personal. I wanted to share what I'm up to now, along with some thoughts about things that matter to me (and probably a few random subjects too).
It's amazing how things can change over a few years. Back in 2010 I was playing out in Turkey, having flown out there with my big folder of CDs, an effects unit and a sort of game-plan for my set. The gig went well but it highlighted how difficult it was becoming to balance my music work with an ever-demanding job and my personal life, so I decided to take a break from music and I haven't really looked back since.
So it's now 2013, I'm married to my wonderful wife (Glad), the IT day-job has continued to take over and I'm taking a week off in Ibiza with Glad. We arrived in Ibiza Town on Saturday and had a bit of a look around the place. Dalt Vila, the historic part of town, is really beautiful – it's quite high up and was originally a Roman fort to protect the island from invaders. There are some chapels and lots of little shops and restaurants built into the weaving streets, and at the top there's a really beautiful cathedral. There's definitely more to Ibiza than I'd first thought.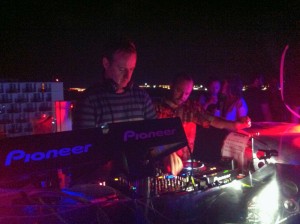 Sunday was the big day of the holiday for the music side of things. We'd planned to go to a couple of parties as some of my favourite DJs (and some old friends) were playing. We walked down from Ibiza Town to Playa d'en Bossa (the longest beach on the island) and had some lunch and a few drinks. Some beach clubs were playing house music, while others played chilled tracks, and tech house was the order of the day for a few others. It really started to bring back some memories.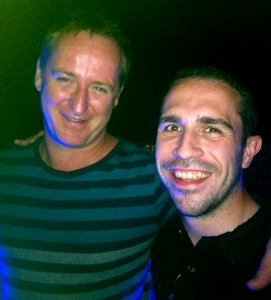 We arrived at Ushuaia Tower (the rooftop of a nice hotel) early in the evening to catch a great line-up: Sasha, Craig Richards and Laura Jones. For anyone that's not already aware, Sasha's my favourite DJ. His sets are always a long journey of lush, melodic tracks that are almost impossible to identify, but which create a wonderful atmosphere and get people dancing. Anyway, it turned out that he was also there a bit early, and I managed to have a bit of a chat with him and Glad took a photo! It's still possible to get a bit star-struck after about 7 years in the industry. The music was absolutely awesome, and it was also great to watch Sasha go back-to-back with Craig Richards (who has more of a tech-house vibe) and see a bit of a DJ battle and some camaraderie! The venue was also directly under the flight path to the island's main airport, and we saw a plane land about every 10 mins. Pretty incredible!
The night went on until about 1.30am and then we headed across the road to Space to catch another top DJ playing – this time James Zabiela, one of the most technically-gifted (and nicest) DJs on the planet. In fact I used to live in the same city as James, and he was one of the first people to inspire me (and he even gave me a few tips about getting into music production). James has really come on over the years and it was great to see him headline one of the best clubs in the world!
On one hand I don't have any regrets about moving on and leaving the music behind, but it's also pretty hard to have one of the best nights out and not get nostalgic about the dance scene! I've half decided to try and write some new music again, but this time just for fun rather than to build a career out of it. I've got a feeling everything will be more healthy and natural that way.